FAQ
Have questions? We've got answers!
Here is a roundup of some of our more frequently asked questions.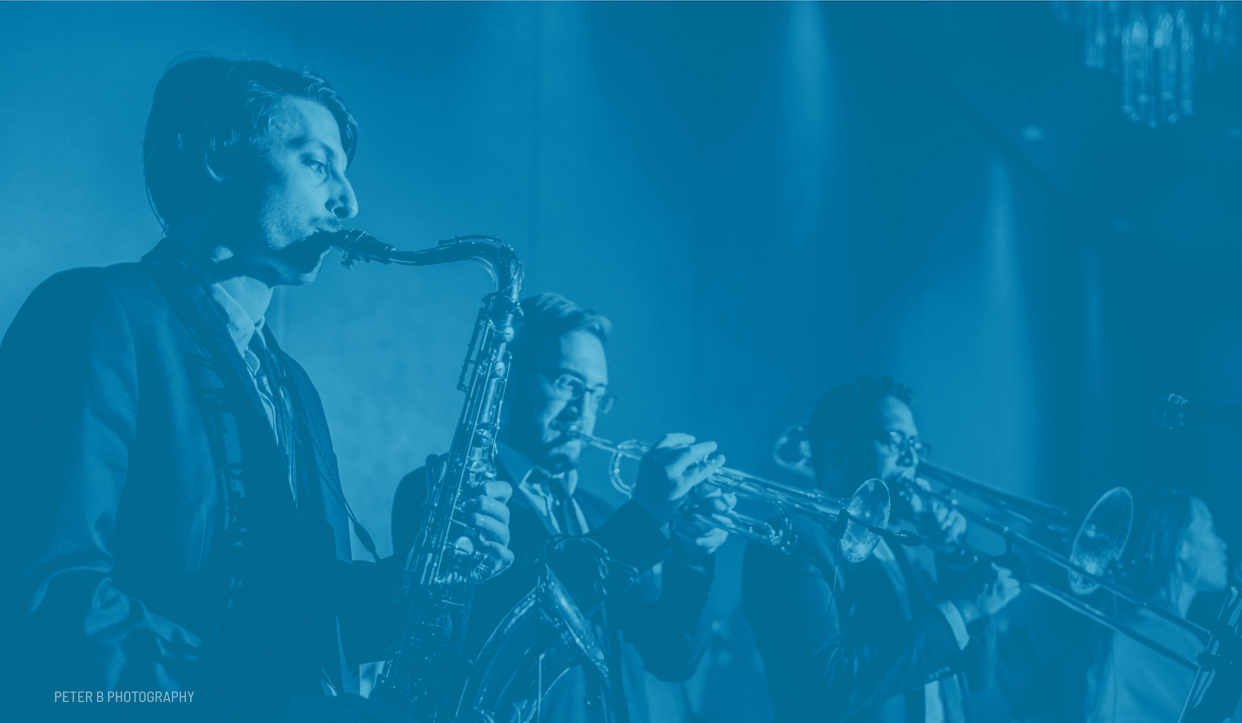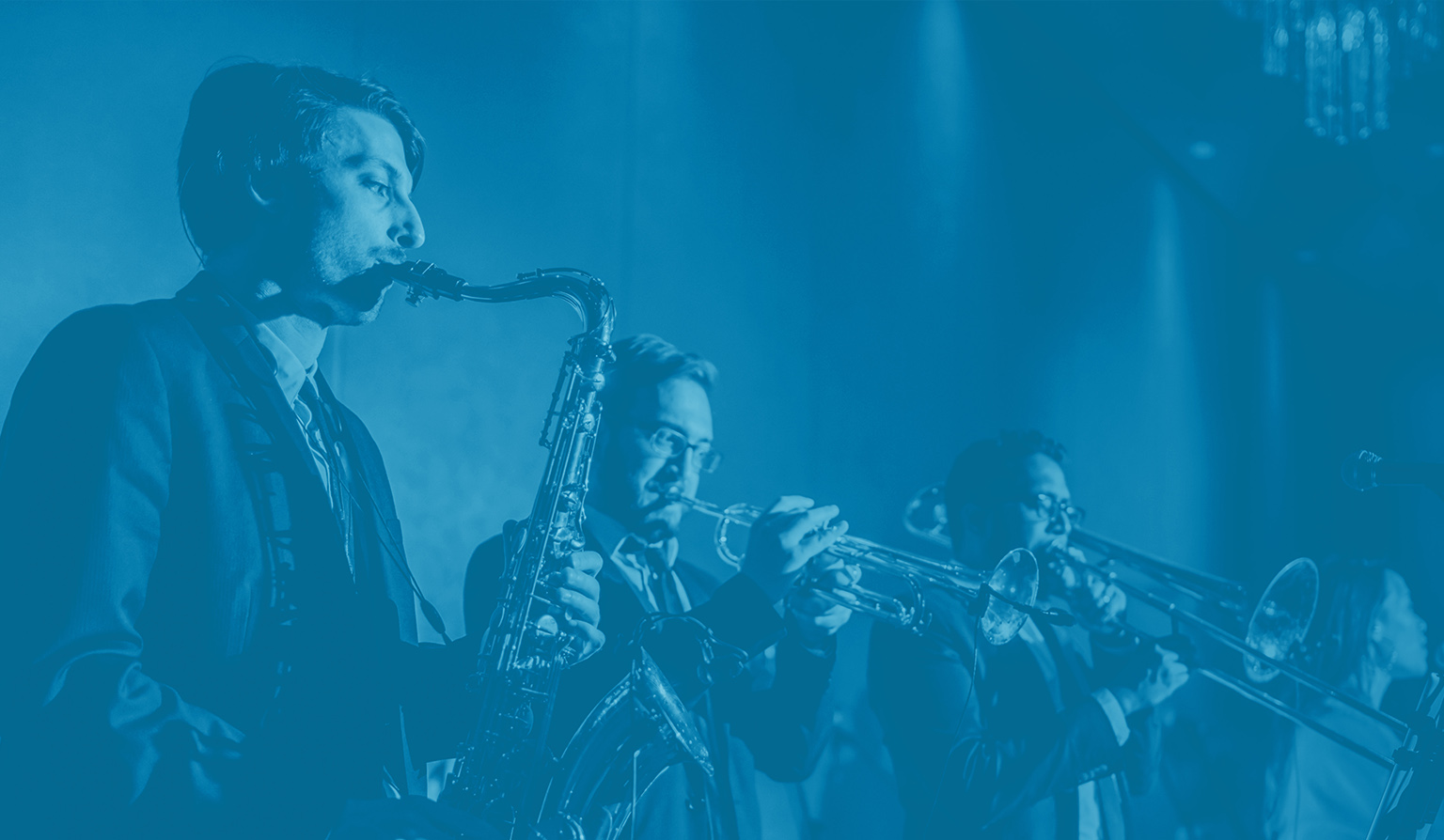 FAQ
Have questions? We've got answers!
Here is a roundup of some of our more frequently asked questions.
Why should I hire a band?
We firmly believe live music doesn't just move people physically, but emotionally and spiritually as well. Nothing transforms a room quite like live music does. If we think about the role our senses play in planning an event, we spend so much of our time on what we see and taste that we can often neglect what we hear. Having real live musicians in the room, playing their hearts out for you and your guests is is pretty magical.
A live band is perfect for creating an energy that can draw guests of any age onto the dance floor, and before you know it the whole room will be up and dancing! For important moments like your first dance a live band can "cast a spell" over the whole room in a way that a DJ just hitting "play" simply cannot. Plus, having a band in the background will make your photos look even more amazing!
Don't just take our word for it – read through our past client reviews and come to our free monthly showcase so we can show you why #liveisbetter and well worth the investment.
Why should I choose StereoFlavour?
All members of StereoFlavour are professional full-time musicians, with bachelor to doctorate degrees in music, and years of experience in the field. Most importantly, we are a group of talented young musicians who are extremely passionate about performing!
We feel that there are three things that set us apart: our professionalism, our versatility and our energy!
Professionalism
From your initial inquiry all the way to the end of your event, our goal is to be the most responsive, organized and professional vendor that you work with. We have a large, experienced admin and coordination team that will take care of every detail so YOU don't have to worry!
Versatility
The team of musicians that makes up StereoFlavour have trained at some of the most demanding music schools in Canada and have also made their professional careers learning and performing every conceivable style of music. This experience allows us to deliver an incredibly diverse repertoire without skipping a beat. We also have the intuition and experience to read the crowd and change up our sets on the fly to make sure everyone stays up and moving!
Energy
We love what we do and it shows! Our goal is to shatter the myth of the "tired, old wedding band" . Our chemistry and energy derive from the fact that we were close friends and colleagues before we started doing this. We like to move, we love to connect, and the only thing we know how to do once we are on stage is have fun!
If you want to know more, please check out some videos and read testimonials from clients to see for yourself.
What venues has StereoFlavour performed at?
We have performed all over Ontario at venues such as the AGO, Arcadian Court, Atlantis, Berkeley Church, Cambium Farms, Casa Loma, The Drake Hotel, Earth to Table: The Farm, Eglinton Grand, Evergreen Brickworks, Fairmont Royal York, Fallsview Casino, Graydon Hall Manor, Gladstone Hotel, Hart House, Hotel X, Liberty Grand, The Manor, Old Mill, One King West, Palais Royale, Park Hyatt, The Ritz Carlton, ROM, Royal Conservatory of Music, Steam Whistle Brewing, Sheraton Hotel, Sunnybrook Estates, Thompson Hotel, Toronto Hunt Club, Whistle Bear Golf Club, Windsor Arms and countless other hotels, event spaces and vineyards.
Our corporate clients include Brookfield Properties, Economical Insurance, Gluskin Sheff & Associates, Humber College, Isagenix, KIK Interactive, Long & McQuade, Niagara Grape & Wine Festival, Osgoode Hall Law School, PepsiCo, PFLAG, Top Choice Awards, Toronto Cider Festival, University of Toronto, Women of Influence, and many other amazing organizations.
Can you provide a Jazz Trio? A String Quartet? A DJ?
Yes! StereoFlavour is a large community of the best musicians in the GTA. Don't hesitate to contact us with all your live entertainment needs, and we will do our best to put together a custom package for you.
Can we meet?

Of course! Our goal is not only to make sure you and your guests have an incredible day, but also to make the booking and coordination experiences personal and unforgettable. The best way to meet the StereoFlavour team is by coming to one of our free monthly showcases! If you aren't able to attend a showcase and would still like to chat, we are happy to set up a phone call with a member of our Senior Admin Team to discuss your event needs and custom quote. Once the booking process is complete, you will be introduced to a dedicated coordinator who will schedule your consultations.

Do you have live music examples?
You can visit our services page to see and hear all that we have to offer!
Where can I see you live?
StereoFlavour mainly performs at corporate events, weddings and private functions. We regularly host free showcases to offer our clients the opportunity to hear us live. Contact us for the next showcase date, visit us on Facebook & Instagram, or join our mailing list to stay updated about upcoming public events.
What are your technical requirements?
If you've hired our 7- to 9-piece dance band, we will need to confirm with your venue that there are a minimum of three 15A power circuits in proximity to the band. We also suggest you inquire about a stage or riser from your venue for bigger impact, especially if your event exceeds 150 guests. If your venue is unable to provide a stage, we are more than happy to connect you to our staging provider.
If it is an outdoor event, we will require the performance space to be elevated and covered by a tent with a backing.

How much space does the dance band need?
We are fairly flexible on space requirements, but in general the space needed 16′x 12′ for our 6-piece band, and 24′x 12′for our 9-piece band.
What is Band Production (aka A/V)?
Band Production is the Audio/Visual (or A/V) aspect required for a smooth, well-balanced, exciting band show. The StereoFlavour Production Package includes state-of-the-art speakers, subwoofers, a digital mixing console, wireless monitoring system, microphones, stands, cables, as well as basic band lighting to highlight the live performance. We also include a dedicated audio engineer who will set up equipment, sound-check the band in the afternoon, control the mix wirelessly throughout the performance, and strike the A/V equipment at the end of the night.

As part of our production services, we are also happy to provide you with a wireless microphone for your dinner speeches free of charge!
What if my venue is able to supply A/V?
Most of the time, venues supply an in-house sound system designed to deliver audio for speeches and/or a DJ (PA speakers and a basic mixer). Their lighting will generally be for the dancefloor only. This is why we use the term "Band Production" (as defined above), due to the fact that more equipment is required for a live dance band.
Only select venues provide Band A/V suitable for 6 to 12-piece dance bands (Palais Royale, Liberty Grand, Steam Whistle and Evergreen Brickworks are some examples). Although StereoFlavour A/V is highly suggested for a seamless performance, you are not required to go with our Band Production. We will gladly work with your A/V provider and send over our stage plot, outlining all our A/V needs.
In a situation where your venue can provide some but not all of the equipment, we can communicate with them to determine the best, most cost-effective A/V package for you.

What lighting is included in your A/V package?
Our standard Production Package includes basic Band Lighting. This usually consists of some LED up-lighting around the perimeter of the stage/performance area, as well as some spot lighting on the band. Please let us know if you have a specific colour scheme/preference that you would like us to match!
Can you provide additional lighting and other A/V for the dance floor?
Yes! Production add-ons include Staging, Draping, Dance Floor Lighting, Room Uplighting, Intelligent Lighting (operator-controlled), Hazers, HD Televisions, Projector Screens, HD Streaming (for the guests that cannot make your event), and more. Please inquire about pricing, and we can add all of these options directly to your custom quote!
How much time does your team need for set up?
Set up takes anywhere from 30 minutes for a Duo up to 3 hours for a 9-piece band with lighting and a full sound system. For wedding receptions, our team will typically arrive around 2pm to make sure the set-up and sound-check are complete before your guests arrive.
Do you have insurance?
Yes, StereoFlavour  has a two million dollar liability insurance for any event. A certificate of insurance can be provided should your venue require it.
Once you are ready to book the band, StereoFlavour will provide you with a contract and take a deposit (which ensures that both parties will be present at the event). Our Coordination team will work closely with you in the months leading up to your event in order to hone in on your musical tastes, stylistic preferences and all logistical venue requirements. We offer two coordination consultations (phone or in-person) as part of your package, and we will connect directly with your venue representative to ensure they can meet all of our requirements for staging, power, etc. so that you have one less thing to think about!
What if one of the musicians gets sick for my booking?
In the unlikely case of a band member falling ill and being unable to perform, we have a fantastic roster of full-time professional musicians who play with us frequently and are so well versed in our repertoire (including medleys and transitions) that you won't even notice the difference! We pride ourselves on our organization and professionalism, so that even in the event where we are thrown a "curveball" such as an illness, we will be ready and able to handle it.

What if I have to cancel?
Your deposit is non-refundable. However, if you cancel at least 90 days in advance, you may use your deposit amount to re-book the same act within 6 months of the cancelled date.
What payment methods do you accept?
We accept payment via Interac e-Transfer or by cheque made out to StereoFlavour Inc. Credit card payments are also an option, though will be subject to an additional fee.
Do you charge for travel?
All travel expenses will be included with your personal quote and are meant to cover the costs of transportation for our musicians and equipment if your event is outside of the GTA. This is standard practice when using professional musicians and audio-visual companies.
If the venue is over 2 hours away from Toronto, we may require overnight accommodations, details for which vary depending on band size.
What is the required deposit to secure your services?
The typical deposit for a dance band is $3,000, which will be outlined in your contract. For a smaller booking, such as a string quartet, we generally request a 50% deposit.
How can I pay my balance?
Your balance can be sent by e-Transfer or cheque prior to your event date. A cheque can also be given to the StereoFlavour onsite coordinator on the day of the event prior to performance time.
You are welcome to break up your balance into instalments if you'd prefer to pay in smaller amounts leading up to your event. We will re-confirm your 'Balance Owed' by email any time we receive an instalment.

Will musicians learn new songs for my event?
Absolutely! We are happy to learn two new songs of any genre at no extra charge, as long as they work for your specific group/instrumentation. Additional special requests (of songs not in our setlist) usually require an extra charge to cover the extra rehearsal time it takes to learn these additional requests flawlessly.
If I requested live music for my Wedding Ceremony, can I customize what musicians play?
You can fully customize your Ceremony (Processional, Signing of the Register and/or Recessional) by selecting from our Ceremony Repertoire. If there is a special song that is not on that list, we are happy to learn it for free! We love to get creative and arrange any song for the instrumentation you have selected, for any song from Ave Maria to Thunderstruck (and yes, we have done both!)
How customized can I make the setlist for the dance portion of the event?
StereoFlavour has crafted a tried and true setlist over the years, guaranteed to get even the most diverse crowd onto the dance floor. Each song has been arranged to suit the band's unique style, with perfected transitions and surprise medleys that will keep your audience engaged all night! All you need to do is let us know your favourite artists, styles, the musical 'vibe' you are looking for, and we will tweak our setlist to suit your preferences. If you wish, you may also send up to four 'do not play' and up to four 'do not cut' selections from our repertoire which we will take into account when building your setlist. Between this and your two free special song requests you can have a lot of control over what we play while still ensuring that the "StereoFlavour Experience" will be delivered to your guests!
Can you play for my first dance, bouquet toss and other special moments?
We'd love to! Live music can make these moments that much more special. You may select songs from our Repertoire, or use a request. We find it works best to do the special dances at the beginning of the band set to get your guests up on their feet for dancing. Extra charges may apply if these performances do not lead directly into a band set.
How far in advance are song requests due?
We require special song requests no later than one month prior to your event, though earlier is always better!
Sets are usually 45-60 minutes long, with 15-30 minute breaks.
Our most common dance band package is 9pm-12am: three 45-minute sets with two 20-minute breaks (or two 70-minute sets with one longer break). The DJ or a playlist will cover dinner, band breaks and closing until 1am.
What happens when the band isn't playing?
There are a few options for filling the time between the band's sets:
1) StereoFlavour Playlist: FREE
During band breaks, we will transition to an iPad playlist to play music through our PA system. Our playlist is sound-checked for volume consistency and carefully arranged to keep your guests dancing. The cocktail/dinner playlist consists of jazz and lounge music, and the dance playlist is a general mix of oldies and Top40. Please note, we cannot accommodate special requests with this option. If you would like to have specific songs, please see the option below.
2) Your Playlist: FREE
Please make sure volume levels for all songs are normalized in iTunes, or Spotify, clicker sound and password protect is off, your device is fully charged, and that you have a backup device with the same playlist. You may also need to assign someone to cue any specific songs during dinner and in between speeches. Before the start of your event, please provide us with your playlists, labelled:
– Ceremony Playlist: 30 to 45 min
– Cocktail Playlist: 1 to 1.5 hrs
– Dinner Playlist: 2 to 3 hrs (specify Entrances, Dances, Bouquet Toss, etc.)
– Dancing Playlist: 1.5 to 2 hrs (during band breaks & closing)
3) StereoFlavour DJ: $800
Our DJ add-on starts at $800 for band breaks and closing. Our professional DJs have an incredibly large selection of music under their fingers, and create smooth and skilled transitions from song to song. You can submit your requests to the DJ in advance to make sure all your favourite songs are cued up for your event!

Can you control my device throughout the event?
If you book our A/V package, this includes a technician, who is present throughout the event to control sound levels. Unfortunately our sound technicians are unable to cue specific songs throughout the evening. We can dedicate a band member/coordinator to cue specific songs on your device for speeches or special entrances for an extra fee depending on how many songs/playlists need to be cued. Please be aware that this basic cueing service is only for individual songs or playlists. We would only be able to handle more complicated parts of your event such as Wedding Party entrances with our DJ service ($800+).
What will the musicians wear?
Our style is smart, semi-formal or formal, depending on the event. Men dress in black suits, ladies in cocktail attire. Don't hesitate to let us know if you would like the band to follow a specific dress code.
How many songs are in a set?
There are 12-16 songs per set.
Do you include profanity in lyrics?
Profanity is usually omitted unless otherwise requested.
How loud will the music be?
If you're booking background music for a cocktail reception, dinner or similar afternoon event, the band will set their levels so that your guests can easily talk over the music. If you're booking our band for dancing, we will set the perfect volume for impact and energy, without reaching uncomfortable volumes. Additionally, you are more than welcome to ask our sound technician to turn any element (i.e. vocals, guitar) up or down at any time. The ability to perform at any volume is one of the biggest reasons to hire full-time professional musicians for your event.

Will my guests be dancing?
Absolutely! StereoFlavour offers a live experience like no other, and we go above and beyond to get your guests out of their seats. With crowd interaction, a versatile setlist, and an energetic performance, we can assure you this will be a night to remember! We've even been known to get out on the dance floor ourselves while performing, so get those dancing shoes ready!